VIVIAN
Group Placer
GCH Hemlock Hollow Aruzia Desertwinds Journey, CGC, JC, RN, RA, RE, BN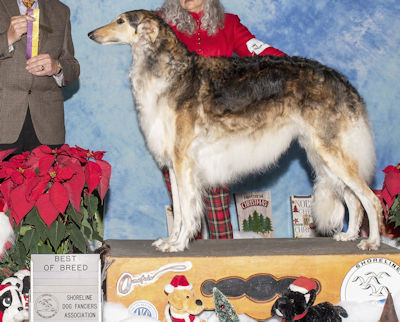 sire: CH Aashtoria Aruzia Java Chip ROM-C
dam: MBISS GCH Borscana Melissa Loveletter, JC, RE, OAJ, BN, OJP, ROMX-C
Born December 5, 2014 HP48679411 pedigree
CHIC #120061 BZ-CA1407/16F/C-VPI-ECHO BZ-EYE310/16F-PI
BZ-TH915/23F-PI BZ-DM1329/27F-PI (clear)
Breeders: Christine Danker & Lorrie Scott
Owner: Wendy Merendini
February 8 & 9, 2020 Vivian earns 4 more RAE legs. February 21, Vivian earns RAE leg #9.
Vivian's first wins in 2019, were earning 2 RAE legs and 6 points towards her RACH. July 27, Vivian earns her third RAE leg at the Lompoc CA rally trial. December 7 & 8, 2019 at the Shoreline Dog Fanciers Assocication of Orange County, Vivian won BOB, both days (pictured at the top of this page). She also competed in rally, qualifying in both Advanced and Excellent to earn another leg for her RAE title.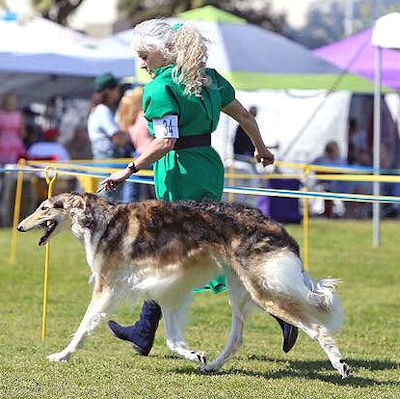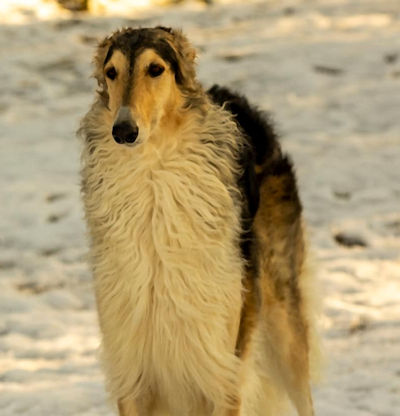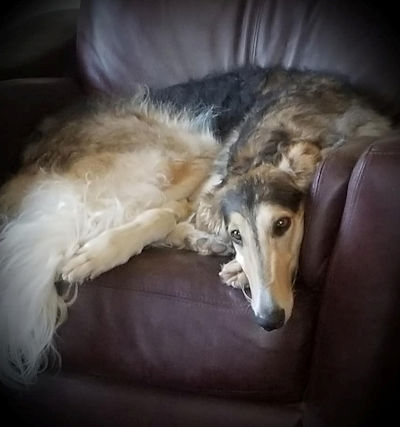 Vivian took time off from her show career to raise a litter, born October 23, 2018, sired by Aspen. Her 4 daughters are pictured below. The red girl with white on the right side of her neck is Jolly. The white and red-sable spotted is Neon. The gold girl is MaryRose. The solid red girl with the white star on her face is Skye
Vivian with two of her 6 week old daughters.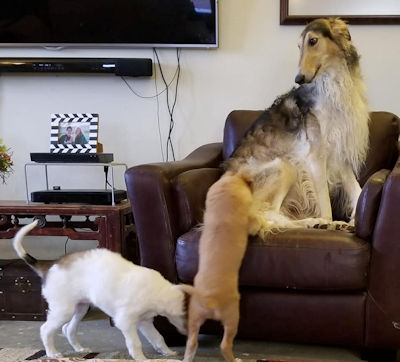 Vivian wins GCH points over specials March 29 and 30 and April 1, 2018. Vivian completed her Rally Excellent title March 17, 2018. Vivian earned her second RAE leg at the May 2018 BCOA National Specialty (pictured below with breeder Lorrie Scott).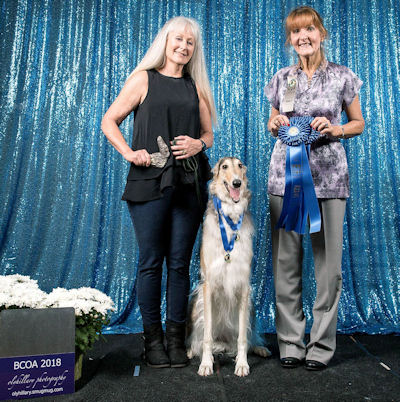 Vivian finished her Grand Champion (GCH) June 17, 2018, owner handled all the way. July 6, 2018, Vivian won Select Bitch at the Borzoi Club of California Specialty (pictured below).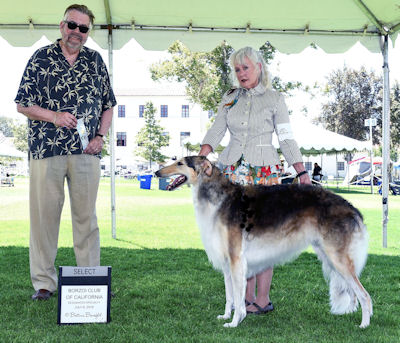 Vivian won Best of Breed and Group 2 at the Santa Ana CA show September 20, 2017 (pictured below). Vivian wins 2 more GCH points September 16, 2017 at the Sir Francis Drake CA show.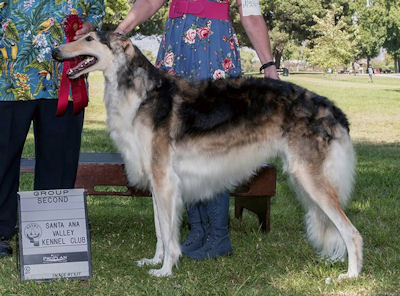 Vivian finished her Championship April 2, 2017 with a major win (pictured below). Vivian was always owner handled. May 27, 2017, Vivian earned her Rally Advanced (RA) title.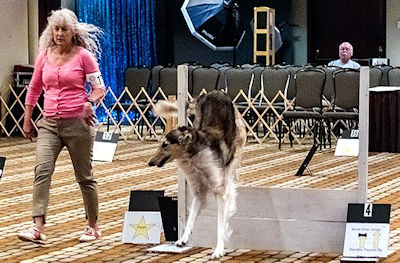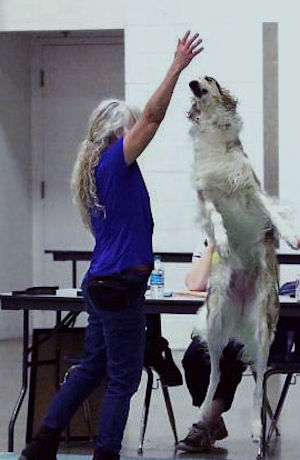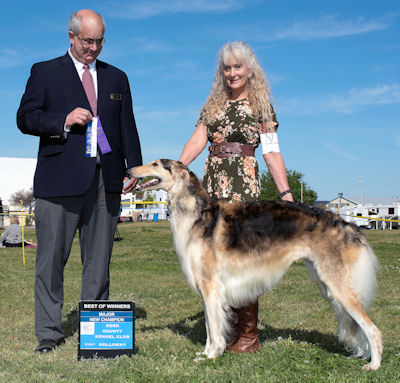 Vivian finished her Rally Novice title at the April 2016 BCOA Specialty with a score of 97 and third place in a class of 20 borzoi (pictured below). Vivian finished her Beginners Novice (BN) title August 19. She won a 5 point major and BOS, over bitch specials, owner handled August 21, 2016, A one point win for Vivian September 11, and also a one point win on November 5, 2016 gave her a total of 12 points, 1 major.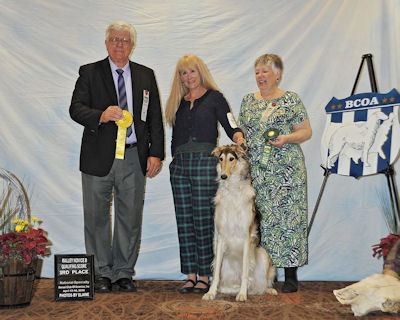 Vivian won second place in her Futurity class, at the 2016 BCOA National owner handled (pictured below).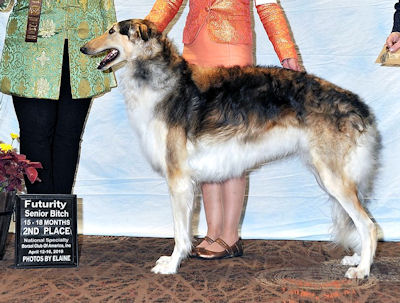 One year old "Vivian" is pictured below winning the points and BOS over a special, with owner handler Wendy, and co-breeder Lorrie.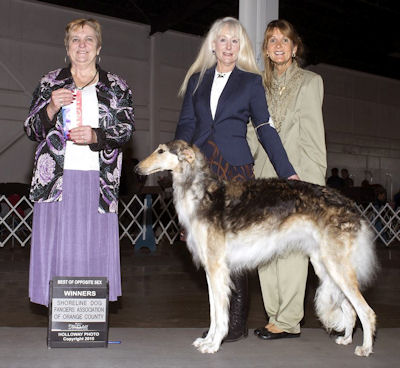 Pictured below at 1 year old.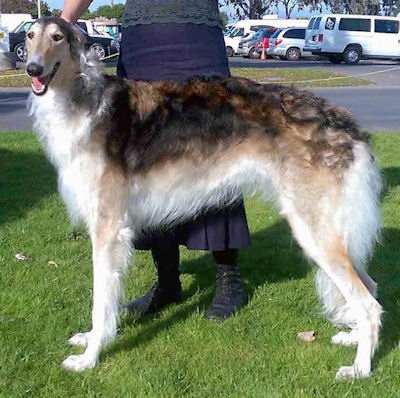 Vivian is pictured below as a young dog.
7 month old "Vivian" is pictured below, winning her first points, with her owner Wendy.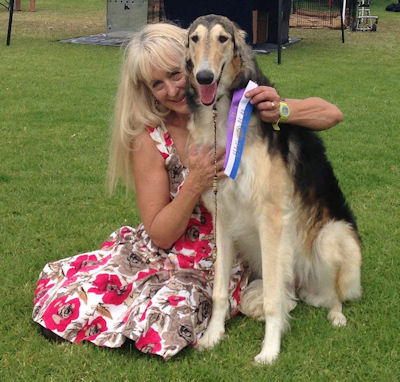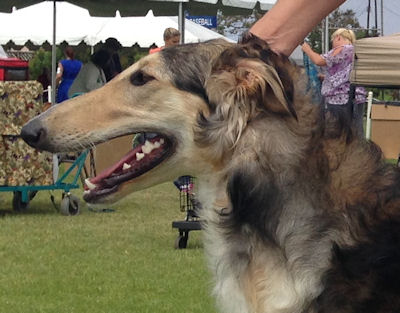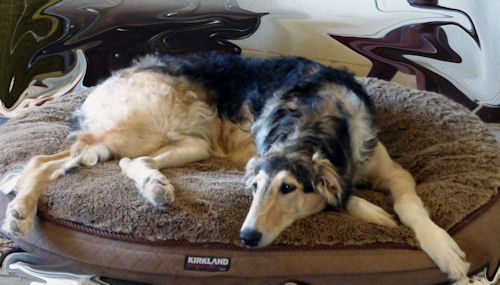 5 months old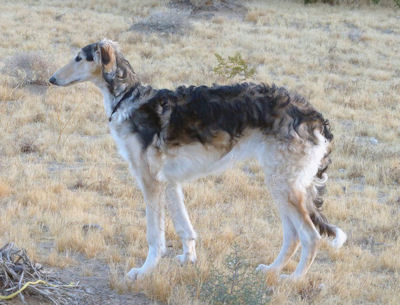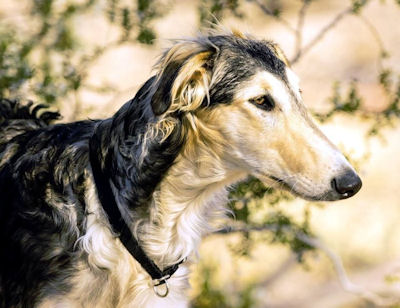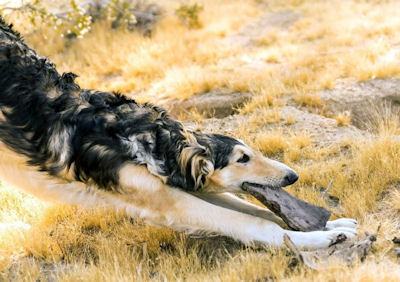 Littermates: CH Hemlock Hollow Aruzia Enjoy the Journey, JC, RN, RA, RE, BN, NA, NAJ, NAP, NJP, OJP "Joy"
Hemlock Hollow Aruzia Midnight Journey "Victoria"
GCH Hemlock Hollow Aruzia Journey Into Imagination, JC, CA "Pia"
CH Hemlock Hollow Aruzia Journey Towards Daylight, CA "Asleigh"
CH Hemlock Hollow Aruzia Journey Across Time, JC, SC, SCN, SIN "Sherlock"
CH MACH Hemlock Hollow Journey To Rule Sixty Two, ATT, CGC, CGCA, RN, BN, JC, NA, NAJ, OA, OAJ, AX, AXJ, MXJ, MX, MXB, MXS, MJB, MJS, TKA, DJ, DN "Whimsy"
CH Hemlock Hollow Aruzia The Journey Continues, JC "Archie",
GCH DC Hemlock Hollow Aruzia Journey To Tahoe, CGC, JC, SC, RN, RI, BN, FCH "Joe"
Hemlock Hollow Aruzia Sentimental Journey, JC "Watson"
Hemlock Hollow Aruzia Enchanted Journey to JAG "Ella"
---
Home This page was last updated February 28, 2020 © 2020 Lorrie Scott. All Rights Reserved.