Rosie
DesertWinds Aruzia Fun In The Moonlight
sire: GCHB Konza-Plum Creek Alfa Romeo At Aruzia, CGC, CA "Aspen"
dam: GCH Hemlock Hollow Aruzia DesertWinds Journey, CGC JC RE BN "Vivian"
Born October 23, 2018
self gold female HP56857702 pedigree
Breeders/Owners: Wendy Merendini, Tom Merendini & Lorrie Scott
2022 Rosie won a point from the Bred-By-Exhibitor class at the Rio Hondo show, judge Pamela Peat, handled by Wendy.
July 24-25, 2021 at the Cabrillo shows, Rosie wins WB/BW for 2 points on Saturday and WB/BW and Best of Breed over 3 specials for a 3 point major. Handled by Wendy from the Bred By Exhibitor class (pictured above. December 3 & 4, 2021, Rosie won 2 more points at the Yuma AZ shows, putting her half way to her CH title. Pictured below in 2021 with her dam Vivian.
Yearling Mary Rosa, better known as "Rosie", is pictured during a rare snow storm at her home in the desert.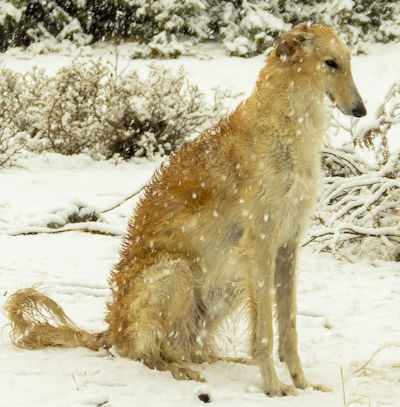 The yearling Rosie in the spring, having fun digging a hole, and resting with sister Neon.
Rosie is pictured below at 6 months, and at 5 months.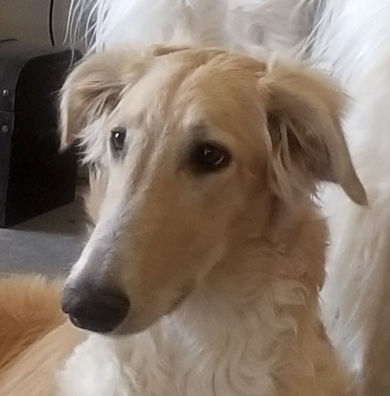 4 month old MaryRosa.
MaryRosa is pictured at 12 weeks playing with her dam, at 11 weeks, and at 9 weeks.
6 week old MaryRosa is pictured with Skye and their dam.
4 week old MaryRosa
1 day old MaryRosa (in the center, with white on the left side of her neck.
| | | |
| --- | --- | --- |
| | < | |
Rosie (MaryRosa) lives with her sister Neon in California. Her other litter mates are Skye who lives in Ohio and Jolly who lives in New York. Picures by Wendy Merendini.
---
Home This page was last updated May 10, 2022 © 2022 Lorrie Scott. All Rights Reserved.