DesertWinds Aruzia Fun In The Moonlight
Born October 23, 2018
self gold female HP56857702 pedigree
sire: GCHB Konza-Plum Creek Alfa Romeo At Aruzia, CGC, CA "Aspen"
dam: GCH Hemlock Hollow Aruzia DesertWinds Journey, CGC JC RE BN "Vivian"
Breeders: Wendy Merendini & Lorrie Scott
Owner: Wendy Merendini
"MaryRosa" is pictured below at 6 months, and at 5 months.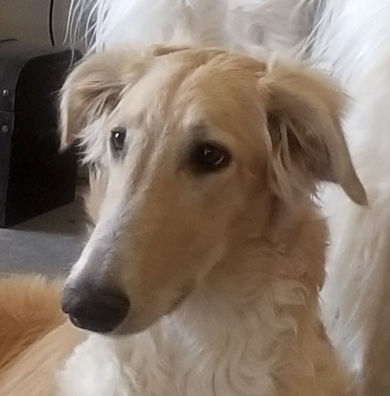 <

4 month old MaryRosa.

MaryRosa is pictured at 12 weeks playing with her dam, at 11 weeks, and at 9 weeks.

6 week old MaryRosa is pictured with Skye and their dam.

4 week old MaryRosa

1 day old MaryRosa (in the center, with white on the left side of her neck.
| | | |
| --- | --- | --- |
| | < | |
MaryRose lives with her sister Neon. Her other litter mates are Skye who lives in Ohio and Jolly who lives in New York. Picures by Wendy Merendini.
---
Home Back to Aruzia Bred Litters This page was last updated April 30, 2019 © 2019 Lorrie Scott. All Rights Reserved.