Skye
Ch DesertWinds Aruzia Fun With Tahoe's Skye, RN, RI, CGC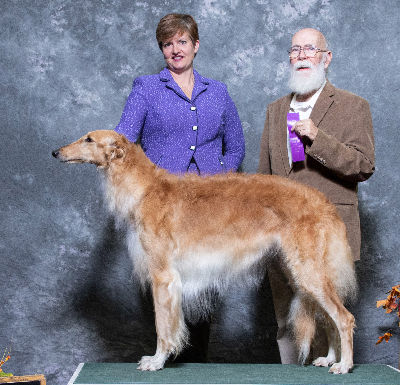 sire: GCHB Konza-Plum Creek Alfa Romeo At Aruzia, CGC, CA "Aspen"
dam: GCH Hemlock Hollow Aruzia DesertWinds Journey, CGC JC RE BN "Vivian"
self red female with white feet October 23, 2018 HP56857703 pedigree
DNA profile #V897049 BZ-TH1280/22F-VPI normal CHIC 152600
BZ-EYE819/13F-VPI BZ-ACA312/22F-VPI BZ-DM1831/23F-PI (clear)
Breeders: Wendy Merendini & Lorrie Scott
Owners: Steve & K. Carol Artley
Skye is pictured at the top of the page, November 18, winning her second major at the Dayton show and finishing her championship, with handler LeaAnne Broseus. 2022 has been a fun, and successful year for Skye. At her first shows in 2022, she won BW/BOS both days for 2 more points, at the Medina shows March 5 & 6. March 13, she earned her first Rally Novice leg. At the Warren County Ohio show April 3, she won a 3 point major. April 22 & 23 she won 2 more points. April 29, she earned her second and third legs to finish the Rally Novice (RN) title. October 21 - 23, she earned 3 Qs in 3 trials, to earn the Rally Intermediate title. Skye is now retired from conformation showing, and working on her rally advanced title and beginners novice title.
Skye is pictured above at 33 months of age. Skye passed the Canine Good Citizen test October 16, 2021, earning the CGC title. At just 3 years of age, she went to her first shows since winning 2 points from the puppy class in 2019. Skye went BW for 1 point October 30 and 2 points October 31, 2021. She is pictured below during the winter 2021.
| | |
| --- | --- |
| | |
Skye is pictured at 14 months of age. She is a happy-go-lucky girl with the nickname "Little Ms Sunshine".
July 28, 2019, at just 9 months of age, Skye goes to her first show, and won 2 points from the puppy class over 4 major pointed mature adult females. Pictured below with judge Judy Lowther and owner handler Steve Artley.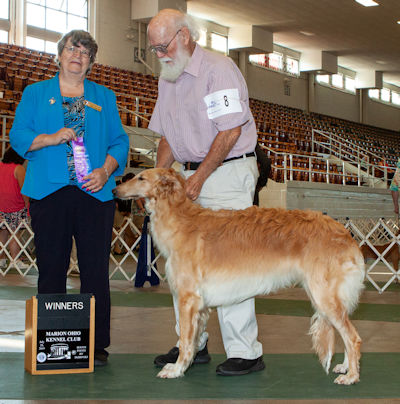 6 month old Skye.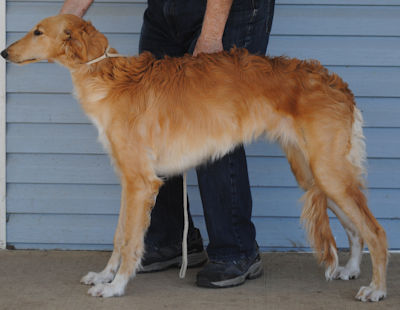 5 month old Skye showing at her first puppy match, where she had fun meeting people.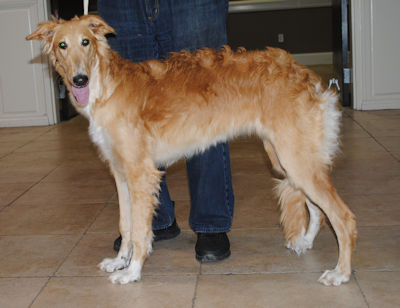 5 month old Skye in the field with her great uncle Clint
4 month old Skye, playing in the yard with the sheltie James, and watching the tractor in the field across the road.
14 week old Skye quietly rode in her crate with her toys for the three day drive from southern California to Ohio, the end of January. The snow and below zero weather at her new home took some getting used to. Skye was used to living in a home with borzoi. But she was puzzled by the strange looking blue merle Shetland Sheepdogs, who barked a lot. After a few days, Skye decided playing chase and bark with the shelties was a fun game. Here is 15 week old Skye on her favorite platform bed. But she really prefers the lounge chair. The borzoi offered to share their couches, as long as Skye didn't take her half out of the middle (last picture).
Pictures of Skye at 3 months and younger, taken by Wendy Merendini.
3 month old Skye visiting a store.
Skye is pictured at 9 weeks.
6 week old Skye with her dam Vivian.
Skye is 4 weeks old playing with toys. Skye is 1 day old in the last picture.
Skye's litter mates are Neon and MaryRose and Jolly ( More pictures of Skye on her owner's website tahoeborzoi.com/Skye.htm )
---
Home This page was last updated November 28, 2022 © 2022 Lorrie Scott. All Rights Reserved.