Joy
"2019 BCOA Versatility Winner"
CH Hemlock Hollow Aruzia Enjoy The Journey,
JC, RN, RA, RE, BN, NA, NAJ, NAP, NJP, OJP, OAP, AJP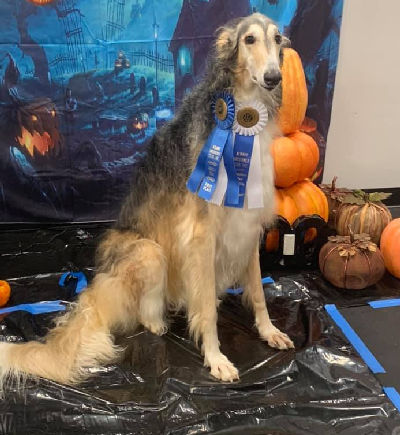 sire: CH Aashtoria Aruzia Java Chip ROM-C
dam: MBISS GCH Borscana Melissa Loveletter, JC, RE, OAJ, BN, OJP, ROMX-C
self gold-sable female with white trim December 5, 2014 HP48679401 pedigree
Breeders: Christine Danker (Hemlock Hollow)& Lorrie Scott (Aruia)
Owner: Christine Danker
Joy's performance career: At 7 years old, Joy is still winning, earning two legs in Master Preferred Jumpers, February 19-20, 2022. November 7, 2021, Joy competed at the Schenectady New York club's trial, earning an Excellent Standard leg. October 30 & 31, 2021, Joy finished the Open Standard Preferred (OAP) title on Saturday (pictured above). On Sunday she finished the Excellent Jumpers Preferred (AJP) title (pictured below).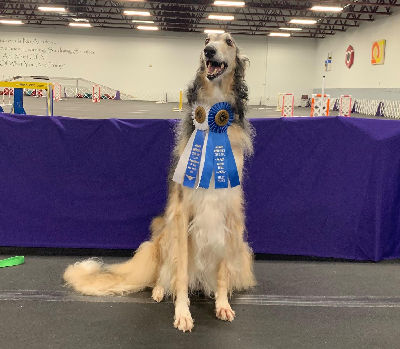 For 2019, Joy was ranked the #1 Versatility Dog for the Borzoi Club of America. November 24, 2019 Joy went back to jumping 24" and finished her Novice Standard (NA) Agility title. November 9, 2019, Joy earned her second Open Standard Preferred leg (OAP). October 26 & 27, 2019, Joy finished two agility titles: Novice Standard Preferred (NAP). She earned a leg for the Open Jumpers Preferred (OJP) title and earned her first leg toward her Open Standard Preferred title (pictured below). October 12, 2019, Joy earned her Junior Courser (JC) title. August 17 & 18, 2019, Joy finished her Rally Excellent (RE) and obedience Beginners Novice (BN) titles. March 23, 2019, Joy finished her Novice Jumpers Preferred (NJP), in 3 trials. March 9, 2019 Joy earned her second leg for her Beginners Novice title, and her first leg for her Rally Excellent title.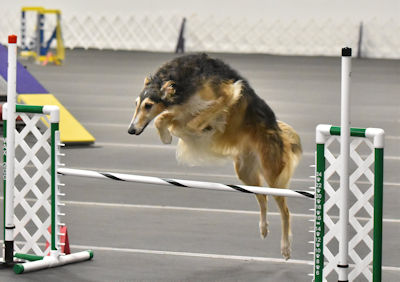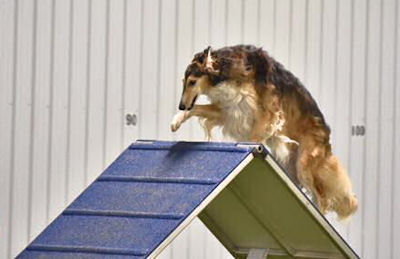 August 6, 2018, Joy finished her Novice Agility Jumpers (NAJ) title. Joy also has earned 2 legs towards her Novice Agility Standard title. August 18, 2018 Joy finished her Rally Advanced (RA) title in 3 trials with 3 Qs.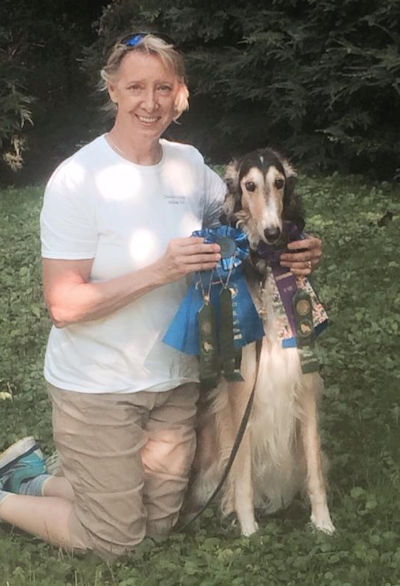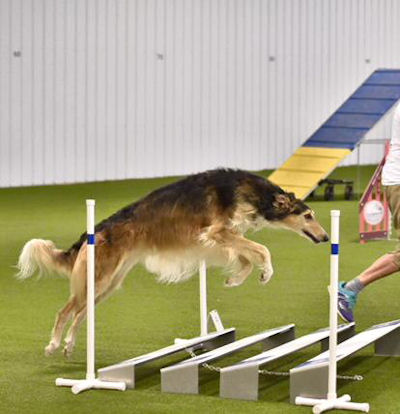 >

<

Joy at the National: At the April 2016 Borzoi Club of America National Specialty, Lawrence Kansas: In the Rally Novice B class of 20 borzoi competing, Joy won first place with a score of 98. In her Futurity class, Joy won third (with her littermates winning first and second placements). In her Puppy Sweepstakes class, Joy won second in the 15 - 18 month class, with 10 shown. Breeder-owner handled by Chris. Pictured are the littermates who qualified in rally at the 2016 National: Colleen Allen with Whimsy, KC Artley with Joe, Wendy Merendini with Vivian, Chris Danker with Joy and trophy presenter Joy Windle.
Joy earned her Rally Novice title May 21, 2016 with scores of 98, 97 and 98.
Joy's show career: September 27, 2015, 9 month old Joy won Best in Puppy Sweepstakes at the Potomac Borzoi Club specialty at the Old Dominion Club of Northern Virginia show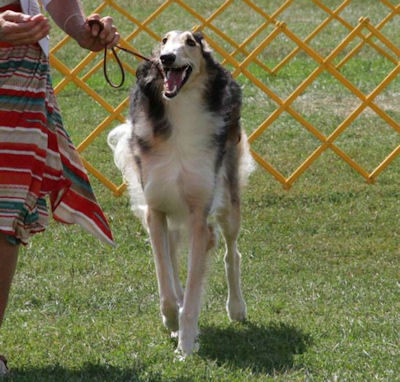 September 9, 2016 Joy won a 3 point major from the Bred-By class handled by Chris Danker, at the Tuxedo NJ show, judge Debra Thornton (pictured below).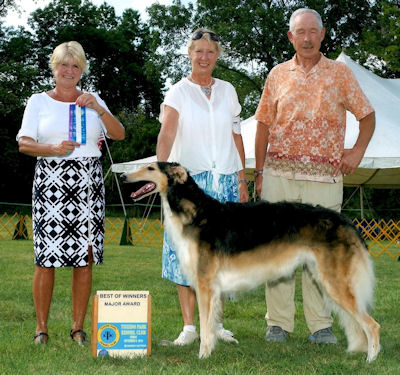 November 20, 2016, Joy won Best of Breed for a 3 point major, at the Chenango Valley show, judge Ainslie Mills. December 4, 2016 Joy won 2 points at the Northeastern Maryland show, judge Laurie Telfair. December 9, 2016 Joy won 2 points at the Huntington Valley show, judge John Arvin. The next day, she won a 3 point major at the BCDV trophy supported show at the Valley Forge show, judge Gary Newton.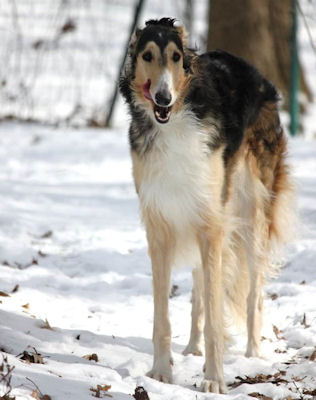 January 22, 2017, Joy won a 5 point major from the Bred By class, and on to Best of Breed over 2 specials at the Greater Lowell MA show, judge Jerry Watson. She also won Owner-Handled Group 2. Joy finished her Championship with 18 points, 4 majors, always handled by breeder-owner Chris.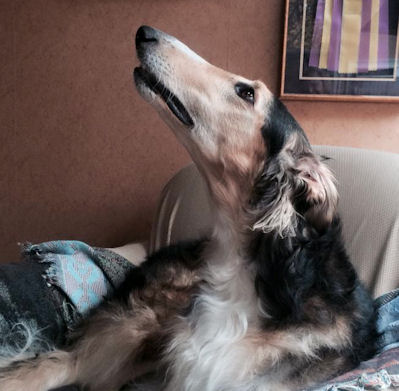 Joy likes running in the snow with her friend
6 months old with her coat changing to red-sable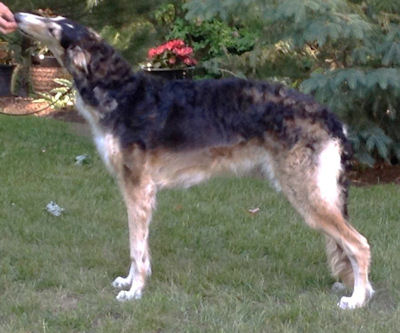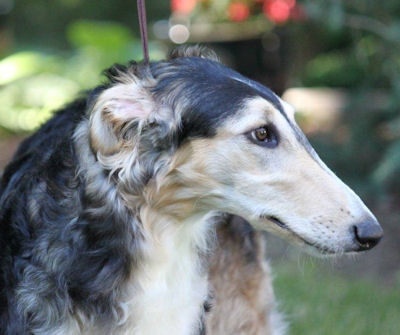 4 months old with her silver coat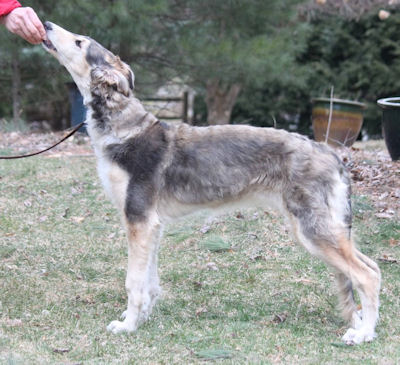 baby Joy
Joy's littermates:
Hemlock Hollow Aruzia Midnight Journey "Victoria"
GCH Hemlock Hollow Aruzia Journey Into Imagination, JC, CA "Pia"
CH Hemlock Hollow Aruzia Journey Towards Daylight, CA, BCAT "Ashleigh"
CH Hemlock Hollow Aruzia Journey Across Time, JC, SC, SCN, SIN "Sherlock"
CH MACH2 Hemlock Hollow Journey To Rule Sixty Two, ATT, CGC, CGCA, RN, BN, JC, NA, NAJ, OA, OAJ, AX, AXJ, MX, MXJ, MXB, MXS, MJB, MJS, MXG, MJG, MXP2, MJP2, MXPB, MJPB, TKA, DJ, DN, FDC "Whimsy"
CH Hemlock Hollow Aruzia The Journey Continues, JC "Archie"
GCH DC Hemlock Hollow Aruzia Journey To Tahoe, CD, BN, RN, RI, RA, CGC, CGCU, JC, SC, FCH "Joe"
GCH Hemlock Hollow Aruzia Desertwinds Journey, CGC, JC, RN, RA, RE, BN "Vivian"
CH Hemlock Hollow Aruzia Enchanted Journey to JAG "Ella"
Hemlock Hollow Aruzia Sentimental Journey, JC "Watson"
---
Home This page was last updated February 21, 2022 © 2022 Lorrie Scott. All Rights Reserved.