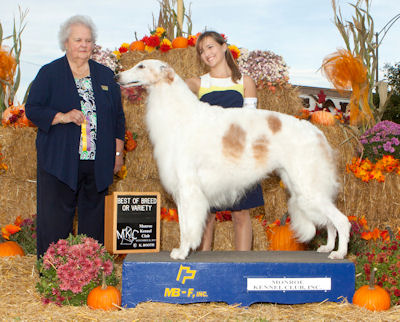 GCH Aruzia Moonstone Of Rivervue
(RBIS MISS GCHS Aruzia Priority One JC, CGC, ROMX-C x GCH Borscana Coyote Latrans JC, ROM-C)
Born August 13, 2010
White male with gold spots HP38370803 pedigree
BZ-CA961/17M/C-PI BZ-DM555/17M-PI (normal/clear) BZ-375378 BZ-TH652/33M-vpi
Breeders: Lorrie & John Scott
Owner: Virginia "Ginger" Jones (Rivervue)
May 20, 2016, Stoney sired 5 pups for his owner; dam is Avalyn Silverbrite of Rivervue. May 17, 2017, his son, Rivervue Gimme Some Lovin, wins first place in the 9 - 12 month sweeps class at the BCOA National specialty, breeder owner handled. May 27, Rivervue Gimme Some Lovin, wins a 5 point major from the Bred-By- Exhibitor class at the Midwest Borzoi Club specialty.
Stoney wins a 5 point GCH major by going Best of Breed over 5 other specials and major entries in the classes at the Monroe Michigan show September 26, 2015.
pictured below May 2015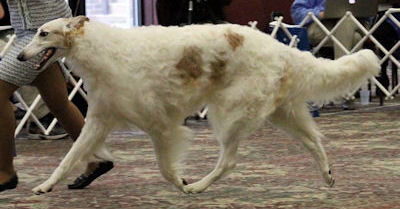 May 25, 2014, Stoney wins Select Dog at the MBC Specialty in Kalamazoo Michigan, under judge Shirley McFadden.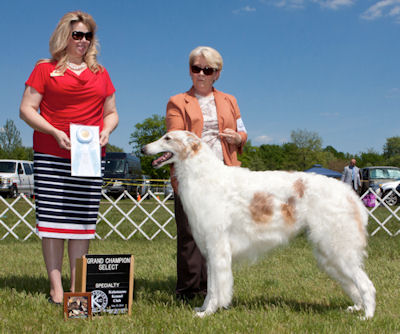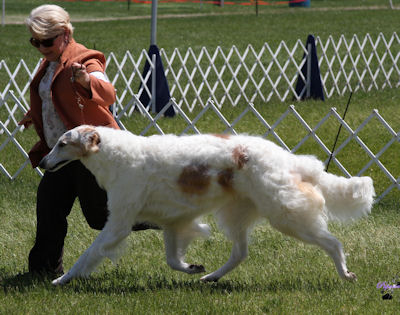 Stoney wins a 4 point major, June 3, 2012 at the Toledo Ohio show. Stoney won his second major and Best of Breed owner handled, on August 13, 2012, his second birthday. September 15-16, Stoney wins 2 more points, and finishes September 29, 2012 with a third major, owner handled. January 19, 2013, Stoney wins an Award of Merit at the MBC Specialty show, owner handled. May 4 & 5, 2013 Stoney wins Best of Breed both days for his first GCH points. July 5, Stoney wins Select Dog for 3 points at the Michigan Hound show, judge Patti Neale. July 6, Stoney wins Best of Breed over three male specials, worth 4 points, at the Ann Arbor show, judge Sharon Sakson, and was Best Owner Handled.. Stoney wins 5 more GCH points November 7 - 10, at the Kalamazoo shows, beating other specials all four days. November 16, Stoney won an Award of Merit at the MBC specialty, pictured below with judge Prudence Hlatky, owner handler Ginger Jones, and MBC President Lynne Bennett. Another GCH point win for Stoney, at the Ingham county show, December 1. August 8 & 10, 2014, Stoney wins Select Dog, for two more majors over specials, to finish his Grand Championship, owner handled .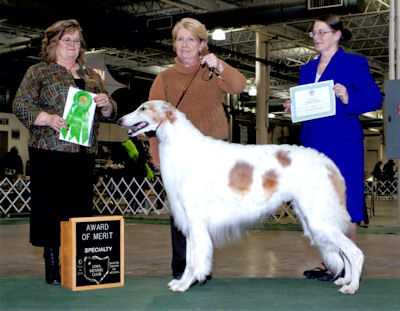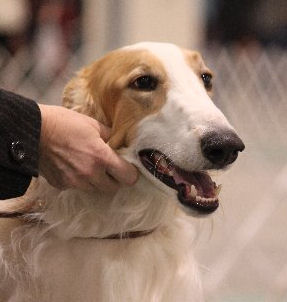 January 2012, 17 months old
Stoney won his second point, June 4, 2011 at the Toledo Ohio show, beating 3 adult males, handler Barb Danieli. He won his third point November 2011.
At 6 months of age, Stoney went to his first show, and beat adults for a point. Pictured below with judge Bo Bengston, handler Barb Danieli and owner Ginger Jones, winning his first point.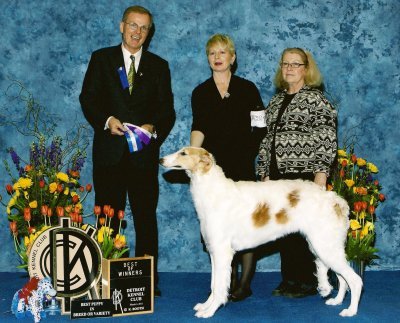 Stoney wins 2nd in the 6 - 9 month class at the BCOA Futurity, judge Robin Casey, handler Ron Williams.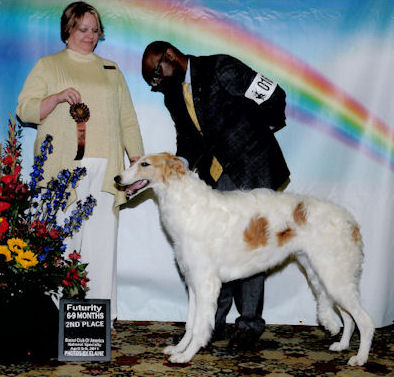 Stoney is pictured, below, at 12 weeks of age.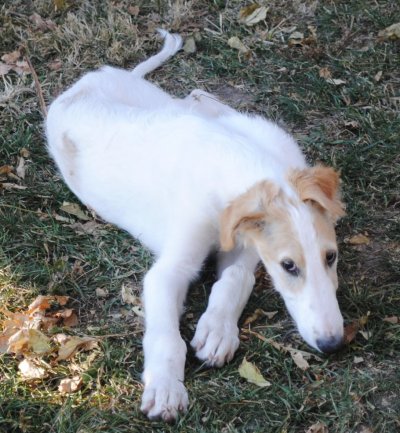 Littermates: CH Aruzia Conundrum Over the Moon "Connie"
CH Aruzia Joyous Moondance JC "Phoebe"
CH Aruzia Ridgeside Champagne Moon at Joyous Gard CGC "Eddy"
GCH Aruzia Bright Moon Over Tahoe CGC JC SC RN BN CD RA "Clint"
---
Home This page was last updated May 31, 2017 © 2017 Lorrie Scott. All Rights Reserved.