Buck
Aruzia Knightly Moon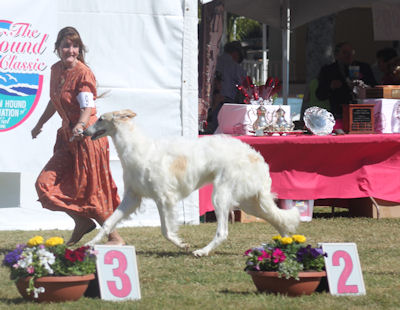 sire: RBIS MBISS GCHS Aruzia Priority One JC, CGC, ROM-C
dam: GCH Borscana Coyote Latrans JC, ROM-C
White & gold spotted male August 13, 2010 - November 17, 2011 HP38370801 pedigree
Breeders/owners: Lorrie & John Scott
Sadly, Buck passed away from a toxic bite wound (from an insect or reptile), in spite of our veterinarian's care
11 month old Buck wins Reserve Winners Dog & Best Puppy at the July 2011 BCOC Specialty. Pictured with judge Jane Bishop, Lorrie Scott, John Scott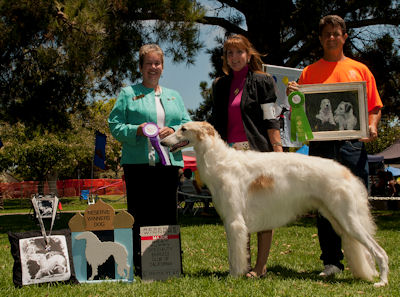 11 month old Buck wins Best Male in Sweepstakes, at the July 2011 BCOC Specialty. Judge Lynda Cattoni-Shafer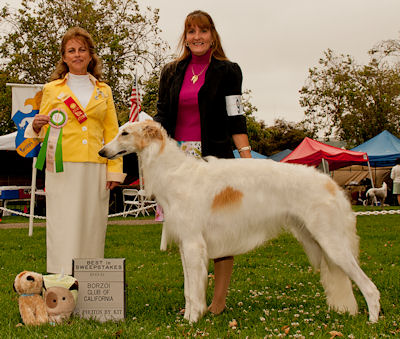 10 month old Buck wins his first points July 9, 2011 from the Bred-By class, at the Santa Maria show. Pictured with judge David Markus,
Pictured winning Best in Sweepstakes, April 17, 2011, judge Julie Mueller, handler Lorrie Scott.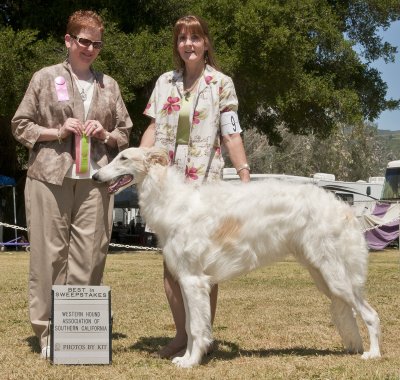 Buck also won Best In Sweepstakes April 16, 2011, at the Western Hound Association of Southern California show, sweepstakes judge Antonie Groenendijk (from the Netherlands).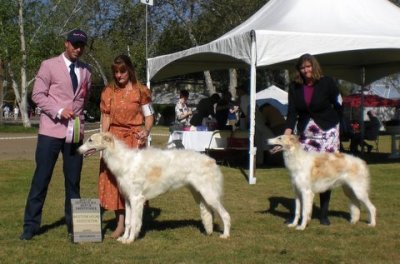 Buck is pictured at 7 weeks old and at 3 weeks old.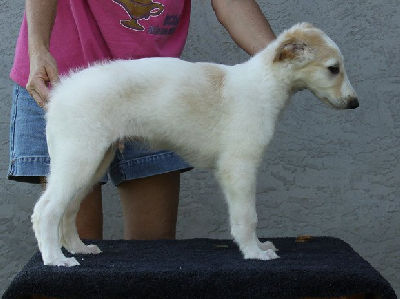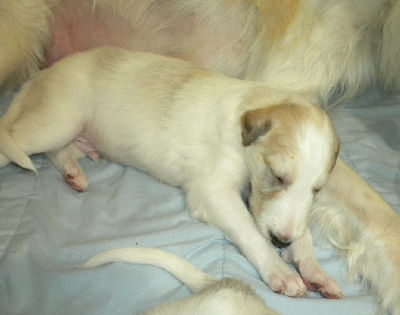 Littermates: GCH Aruzia Bright Moon Over Tahoe CGC JC SC RN BN CD RA "Clint"
CH Aruzia Joyous Moondance JC "Phoebe"
CH Aruzia Ridgeside Champagne Moon at Joyous Gard CGC "Eddy"
GCH Aruzia Moonstone of Rivervue " Stoney"
CH Aruzia Conundrum Over the Moon " Connie"
Aruzia Moonlite No Other " Minnie"
Aruzia Moon Blizzard
---
Home This page was last updated November 27, 2020 © 2020 Lorrie Scott. All Rights Reserved.