The multiple Group Winner, multiple group placer, multiple Specialty Winner &
Reserve Best In Show winner
GCHS Aruzia Priority One JC, CGC, ROMX-C
At the 2014 National, Frosty won an Award Of Merit, Best Veteran In Show, and Best in Veteran Sweeps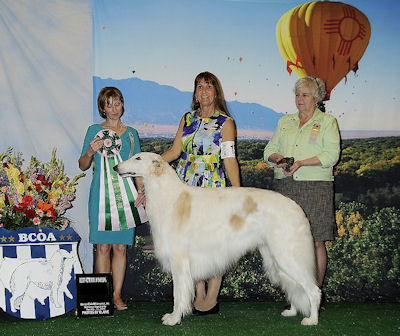 Awarded "Select Dog" at the 2012 BCOA National Specialty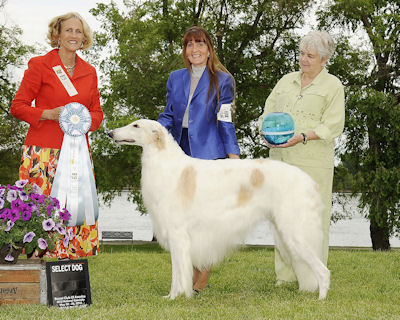 Awarded Group I, on his way to Reserve Best In Show, at the 2012 Lompoc show, judge Dorothy McDonald
(FCI Int/Mx/Am CH Seabury Moonlit Corvette x CH Summerstar Champagne Dancer )
December 24, 2006 - October 15, 2014
White male with gold spots HP24877801 pedigree
Health Clearances: BZ-CA610/48M/C-VPI-Echo BZ-DM80/42M-PI
Breeders/owners: Lorrie & John Scott
email
Frosty The Show Dog: While in the classes he won multiple Best in Sweepstakes as well as two BCOC Specialty WD for 5 point majors to complete his championship before 2 years of age. All points were earned from the Bred By Exhibitor class. Specialed occasionally, he was ranked #14 in 2009 and #10 in 2010 (all-breed system) with multiple group placements. In 2011 Frosty had 13 Breed wins & 2 group placements, 361 all-breed points including 142 breed points, good for #9 (breed system) and #11 (all-breed system). "Frosty" was awarded "Select Dog" at the 2012 BCOA National Specialty, judge Patti Neale. Frosty won Best of Breed at the Borzoi Club of California Specialty, at Lompoc July 2012. The next day at the all-breed show, Frosty wins Breed, Group 1 and Reserve Best In Show (pictured below with judge Charles Trotter). Frosty is the first borzoi to win Reserve Best In Show. Frosty finished 2012 as the #4 Borzoi (all-breed) with 3 Group One wins, and 1476 dogs defeated. Also for 2012, Frosty ranked as the #5 Borzoi (breed system) with 295 borzoi defeated. For 2013, Frosty ranked #7 with 258 breed points, and #7 with 634 all-breed points. He won Best of Breed at Lompoc, July 2013, the day after the Borzoi Club of California specialty, judge Jon Cole. At the 2014 BCOA National Specialty, Frosty won an Award of Merit and Best Veteran In Show, judge Jon Steele, and Best In Veteran Sweeps, judge Cherie Hunchak. Frosty was always breeder-owner handled by Lorrie. Frosty passed away from a tumor in his spleen.
Frosty The Sire of Champions: Frosty sired 8 pups, born August 13, 2010 at Aruzia, out of GCH Borscana Coyate Letrans JC ROM-C. Five from the Aruzia litter became champions. Frosty's second litter (6 females & 4 males) was whelped March 15, 2011 out of CH Aashtoria Irishbrook La Rochelle JC, breeder Robin Riel, Aashtoria. Four from the Aashtoria litter became champions. Frosty made the 2012 Top Producers List as the sire of 5 Champions, 3 from the Aruzia litter and 2 from the Aashtoria litter. Frosty was awarded his ROM-C title from the Borzoi Club of America. In 2012, Frosty sired a litter of two for breeder Kay Cassella, and a litter of two for Julie Hagen (Jags) and Torrea Leborn (Swanmanor). In 2014 Frosty sired a litter of 5 for breeders Kay Novotny and Janet Adams, and a single puppy, Grace, for breeder Lorrie Scott.
As puppies, several of his children won majors from the puppy classes as well as Best In Sweepstakes, BOS Specialty Sweepstakes, Reserve Specialty Winners Dog and Specialty Winners Dog. CH Morozova Rey Desertwinds Sierra Sirocco finished from the puppy class, owner handled. CH Konza-Plum Creek Alfa Romeo At Aruzia is Frosty's 11th champion. His 12th champion is "Brett", CH Swanmanor Jag Ride The Wind, owned by Julie Hagen and Torrea Leborn, finished May, 2015, with 4 majors. Champion #13 is CH Morozova Rey Sierra Moonlight, owner handled by breeder Kay Novotny, who finished June 6, 2015 with 3 majors. Champion #14 is CH Konza-Plum Creek Aston Martin who finished with 3 majors, and who is owned by breeders Kay Casella and Caryl Dumaine.
Reserve Best In Show, Lompoc July 2012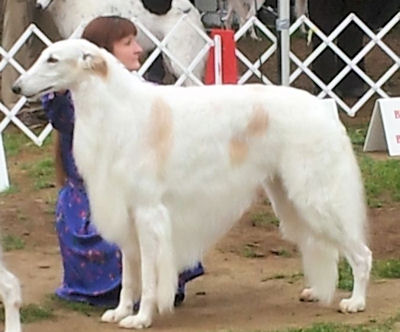 More Pictures of Frosty
---
Home This page was last updated November 25, 2016. © 2016 Lorrie Scott. All Rights Reserved.