Minnie
Aruzia Moonlite No Other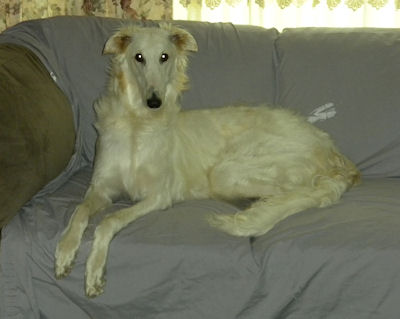 sire: RBIS MISS GCHS Aruzia Priority One JC, CGC, ROMX-C
dam: GCH Borscana Coyote Latrans JC, ROM-C
white and cream spotted female August 13, 2010 - December 16, 2016 HP38370808 pedigree
DM tested clear
Breeders/owners: Lorrie & John Scott&
Minnie was the most unique borzoi we've ever had. Born with a genetic defect, life at times was a challenge for her. She had the kindest softest soul and never met a foe. The world really was a "box of chocolates" for her. Sadly she left us due to septic shock brought on by pneumonia.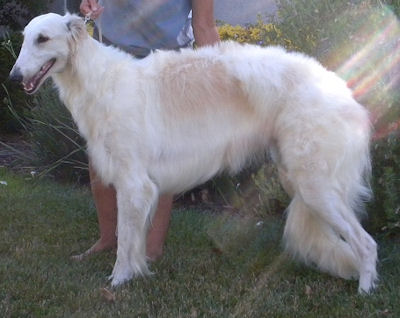 Minnie is pictured at 7 weeks old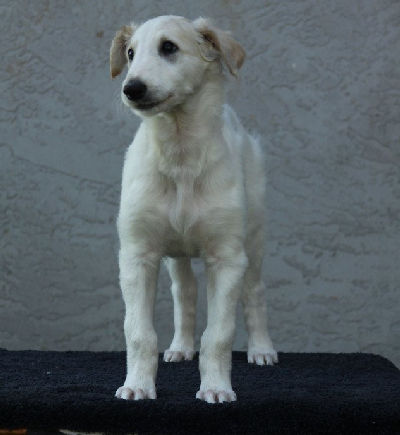 Littermates: CH Aruzia Conundrum Over the Moon "Connie"
CH Aruzia Joyous Moondance JC "Phoebe"
CH Aruzia Ridgeside Champagne Moon at Joyous Gard CGC "Eddy"
GCH Aruzia Bright Moon Over Tahoe CGC JC SC RN BN CD RA "Clint"
Aruzia Knightly Moon " Buck"
GCH Aruzia Moonstone Of Rivervue " Stoney"
Aruzia Moon Blizzard
---
Home This page was last updated November 22, 2020 © 2020 Lorrie Scott. All Rights Reserved.