Circe
CH Aruzia Joyous Royal Odyssey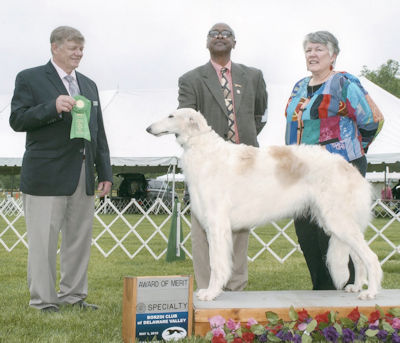 sire: GCHP Raynbo's Run For The Roses ROMX-C
dam: CH Aruzia Joyous Moondance JC ROM-C "Phoebe"
white and gold spotted female April 15, 2015 HP49286404 pedigree
Breeders: Joy Windle (Joyous-Gard) & Lorrie Scott (Aruzia)
Owner: Joy Windle
May 4, 2019, Circe came out of retirement to compete at the BCDV specialty, where she won an Award of Merit. Circe is pictured at the top of the page with judge John Arvin, handler Ron Williams and owner Joy Windle. With the passing of Joy Windle from cancer, in June 2020, Circe has moved to her co-breeder's home in California, where she will be a house dog for the rest of her life.
Circe's journey to her Championship: Circe finished in a total of 9 shows. She was shown once as a puppy in 2015. In 2017 she competed in 8 shows, winning the points at 6 shows. April 13, 2017 she won a point at Lebanon county kennel club show, judge Suzanne Dillin. June 17, 2017, Circe won WB/BW/BOS over 3 bitch specials for a 4 point major at the Bryn Mawr show, judge Helen Nietsch handler Elisabeth Szymanski (pictured).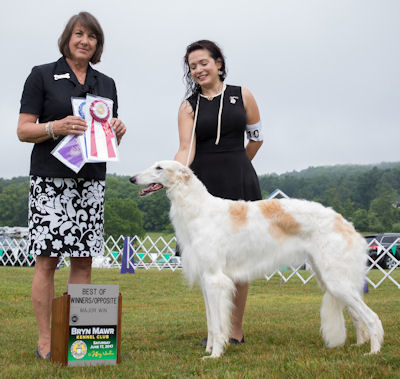 July 8, 2017 Circe won a point at the Upper Marlboro kennel club show, judge Alberto Berrios. Circe won a second 4 point major September 16, 2017 at Lehigh Valley, judge Eva Berg, handler Elisabeth Szymanski. Circe won 2 points October 7 at the Devon PA show, judge Patti Neale, handler Elisabeth Szymanski. Circe won a third major to finish her Championship at the Valley Forge PA show, December 9, 2017 with a 3 point win. Pictured with judge Prudence Hlatky and owner Joy Windle.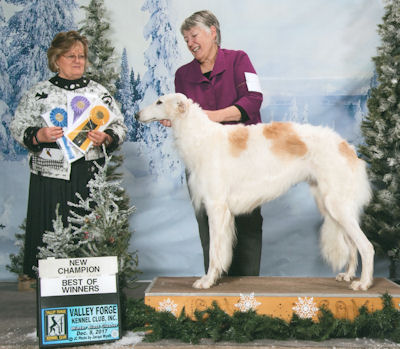 Puppy Circe: 7 months old
4 - 5 months old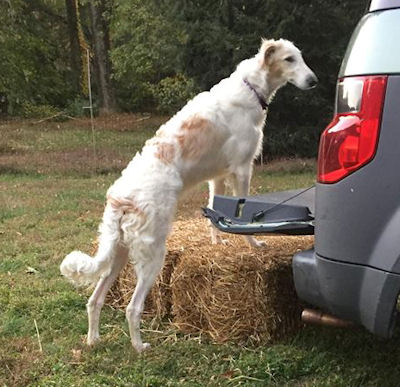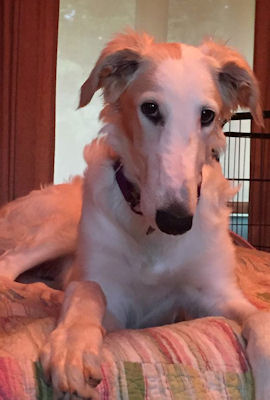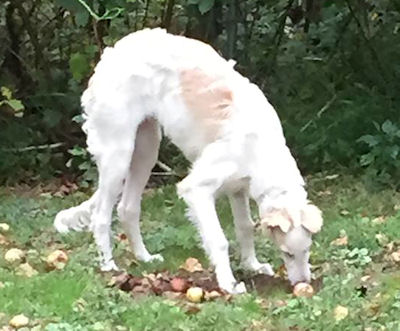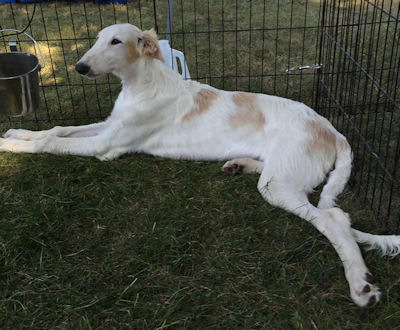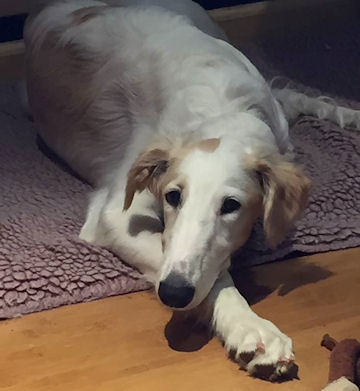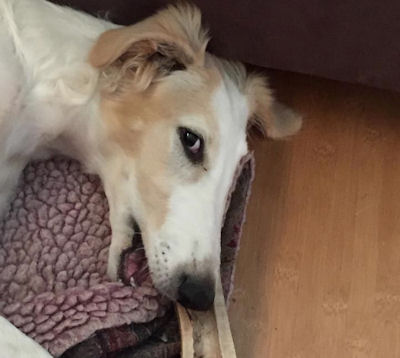 Circe's littermates:
GCHS Aruzia Joyous Pennyroyal at Rivervue "Penny"
GCH Aruzia Joyous Ruisseau Royale At Rey "Brooke"
GCH Aruzia Joyous Royal Moon at Maskova "Cali"
CH Aruzia Joyous Royal Romance at Maskova "Vivian"
CH Aruzia Joyous Royal Watch Her, CA "Opal"
Aruzia Joyous the Royal One "Olaf"
---
Home This page was last updated December 11, 2020 © 2020 Lorrie Scott. All Rights Reserved.