BROOKE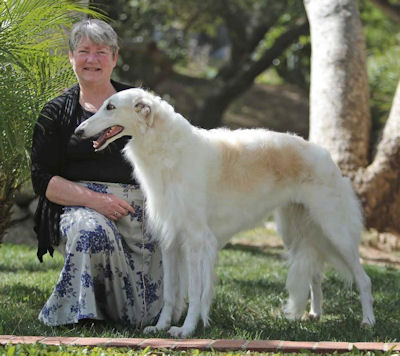 GCH Aruzia Joyous Ruisseau Royale At, CGC
(GCHP Raynbo's Run For The Roses x CH Aruzia Joyous Moondance JC ROM-C "Phoebe" )
April 15, 2015 HP49286402 pedigree
BA-CA1378/12F/C-VPI-ECHO BZ-EYE316/11F/PI
Breeders: Joy Windle (Joyous-Gard) & Lorrie Scott (Aruzia)
Owner: Kathleen Novotny
July 5, 2018, Brooke wins BOS at the Borzoi Club of California independent specialty, owner handled. August 25 & 26, more points won towards her Bronze GCH title at the Mensona shows, along with a Owner Handler Group 2.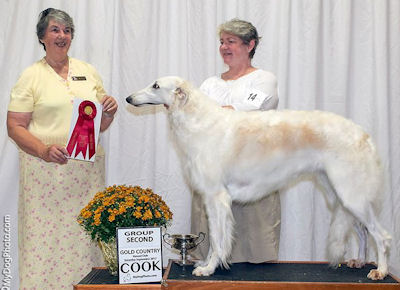 October 16, 2016, Brooke starts her quest for a GCH, by winning Select Bitch for a 3 point GCH major. January 8, 2017 Brooke wins Select Bitch over other bitch specials for a major, at the Kennel Club of Palm Springs show. March 17, 2017 Brooke wins an Award of Merit at the Borzoi Club of California specialty, Select Bitch on Saturday for a 4 point GCH major over specials, and Select Bitch on Sunday for 2 GCH points over specials. Brooke continues to wins GCH points over the spring and summer. September 2, Brooke wins BOB and a Group 2 at the Gold Country CA show (pictured above). October 21, 2017, Brooke gets an Award of Merit, out of 21 specials, at the Borzoi Club of Northern California specialty. December 2, 2017 she finishes her Grand Championship.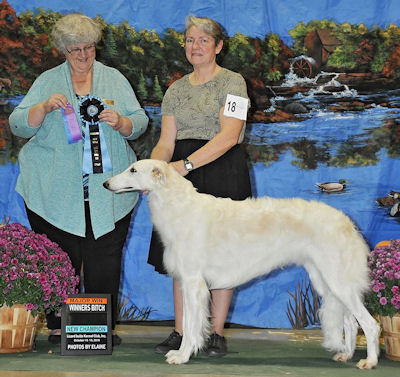 Brooke has won her puppy class over competition at several shows. She won RWB, Best Borzoi Puppy and Group 3 in the Puppy group at the Ventura County show January 24, 2016. She won 2 points from the 12 - 18 month class April 24 at the Chief Solano CA show, owner handled. Two points won at the Coyote Hills shows, May 21 & 22, 2016. Three more single points won from the 12 - 18 month class, May 28, 29, 30 at the Placerville CA shows. More point wins for Brooke at the July 2 & 3, 2016 Mt Bachelor Oregon shows. A 3 point major win from the 12- 18 month class September 18, 2016. At 18 months of age, Brooke wins her second major to finish from the open class, October 15, 2016, at the Lizard Butte ID show (pictured above)

1 year old Brooke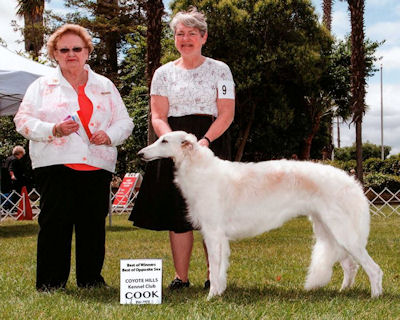 Brooke at 9 months of age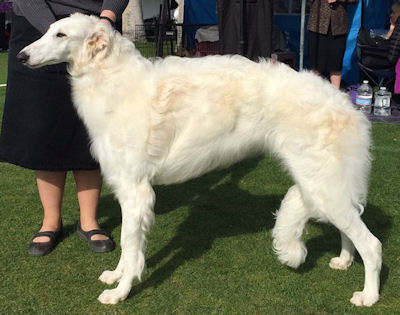 8 months old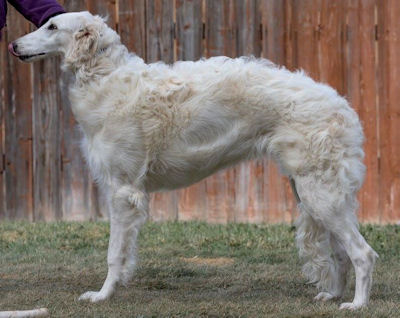 6 months old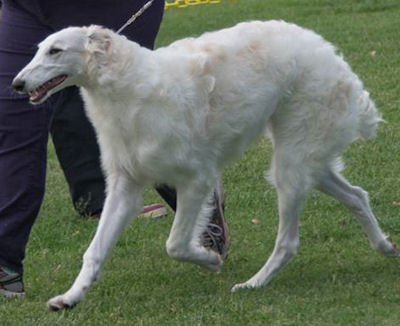 5 months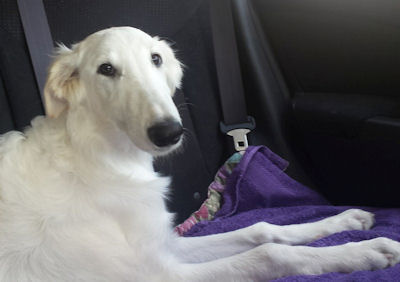 4 months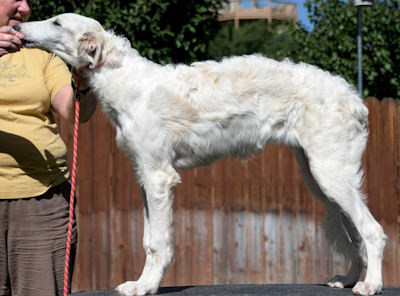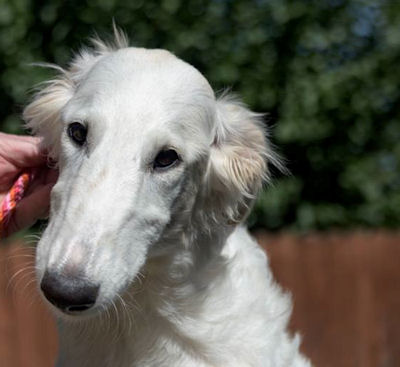 Her littermates are:
CH Aruzia Joyous Royal Odyssey "Circe"
GCHB Aruzia Joyous Pennyroyal at Rivervue "Penny"
GCH Aruzia Joyous Royal Moon at Maskova "Cali"
CH Aruzia Joyous Royal Romance at Maskova "Vivian"
CH Aruzia Joyous Royal Watch Her, CA "Opal"
Aruzia Joyous the Royal One "Olaf"
---
Home This page was last updated August 27, 2018 © 2018 Lorrie Scott. All Rights Reserved.