Junior
Reserve Best In Show winner in the Owner Handler group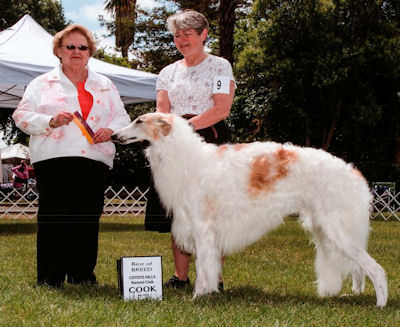 GCHS Morozova Rey's Sierra Moonlight, JC, SC, CGCA, RN, BN
(RBIS MBISS GCHS Aruzia Priority One JC CGC ROMX-C x BISS GCHS Morozova Sierra Sunrise At Rey JC ROM-C )
DOB: 3/25/2014 HP47164106 pedigree
BZ-CA1367/24M/C-VPI-ECHO BZ-EYE345/24M-PI
Breeder/owners: Kathleen "Kay" Novotny & Janet Adams
Junior started 2018 by winning Select Dog for a 5 point GCH major over 4 male specials and 10 class males at the Inland Empire Hound Club of Southern California specialty. His half-brother/cousin CH Morozova Rey's Sky Pilot won an Award of Merit and his half-sister/cousin Morozova Rey's California Poppy was Winners Bitch for a 4 point major. Junior finished his Silver Grand Champion title in March. At the 2018 BCOA National Specialty, Junior won High Score In Obedience trial with his first CD leg, plus Junior earned a leg in Beginner Novice, and a first place in Rally Intermediate. July 7, 2018, Junior and Kay won Select Dog and Best Owner Handler, then on to Group 1 and Reserve Best In Show NOHS. July 8 Junior and Kay won BOB and Group 4 NOHS at the Santa Maria kennel club show.
Junior finished his Grand Championship February 20, 2016 with 5 majors and a Group I in the Owner-Handler Group. Junior finished his Bronze Grand Championship February 18, 2017, always owner handled by Kay Novotny. March 17, 2017, Junior wins BOS at the Borzoi Club of California specialty, breeder-owner handled.
Junior went RWD to a major, to his litter brother, Morozova Rey Desertwinds Sierra Sirocco, at the Kennel Club of Palm Springs show, January 4, 2015. March 21-22, Junior won a major and then 2 points at the Oakland CA shows. He finished June 6, 2015 with a third major, breeder-owner handled. He earned his Junior Courser title June 21, 2015.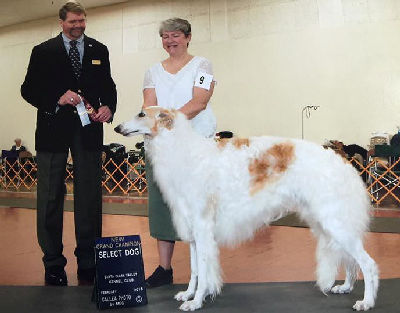 Junior earned his Rally Novice title March 26, 2016. At the 2016 BCOA Specialty, Junior earned a score of 95 and fourth place out of 20 borzoi shown in Rally Novice B. He competed in the Beginner Novice B class where he won first place with a score of 193.5 (pictured below). He competed in Best of Breed, breeder-owner handled by Kay, where he made the first cut of 18 males, out of 43 male specials shown. He also competed in the AKC lure coursing trial at the National where he finished his Senior Courser title.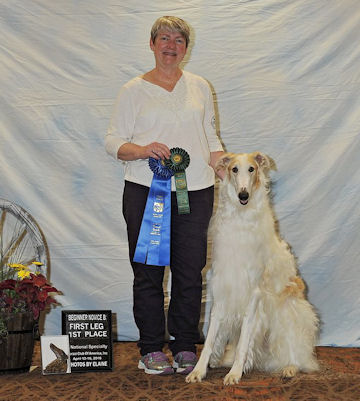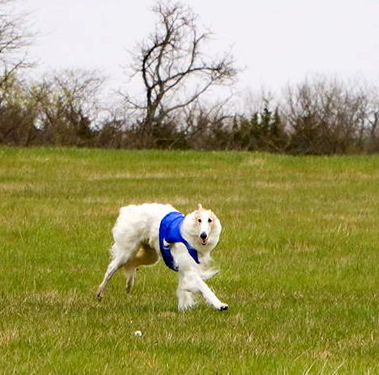 coursing photo by Ashley Siemon
Junior earned his Beginner-Novice title with scores of 192 and first place and 194 and second place, May 28 & 29, 2016. He was awarded Best of Breed over 57 borzoi at the Inland Empire Hound show, January 6, 2017, and only needs a couple of points to finish his Bronze Grand Championship.
Some of his littermates are CH Morozova Rey Desertwinds Sierra Sirocco, RN, SC, BN and Morozova Rey's Sierra Ruby, CA. His half-brother/cousin is CH Morozova Rey's Sky Pilot
---
Home This page was last updated July 20, 2018 © 2018 Lorrie Scott. All Rights Reserved.