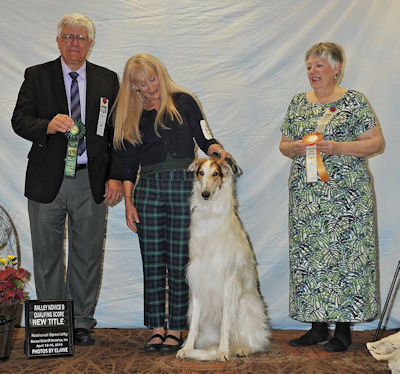 CH Morozova Rey Desertwinds Sierra Sirocco, SC, RN, BN

(RBIS MBISS GCHS Aruzia Priority One JC CGC ROMX-C x BISS GCHS Morozova Sierra Sunrise At Rey JC ROM-C )

DOB: 3/25/2014 HP47164102 pedigree

BZ-CA1394/24M/C-VPI-ECHO BZ-EYE343/24M-PI

Breeder: Kay Novonty & Janet Adams Owner:

Wendy & Tom Merendini

Bodie earned his championship at 11 month of age from the puppy classes with 4 majors including a 4 pt major at Palm Springs Kennel Club show. He also is a Best In Sweepstakes winner, BOB from the classes & Borzoi Club of Northern California October 2014 specialty RWD from the 6-9 month class. An outgoing youngster who enjoys trying everything that comes his way and he has never met a stranger. Bodie completed his Senior Courser title January 17, 2016 and is pointed in AKC coursing. He finished his Rally Novice (RN) title at the 2016 BCOA Specialty (pictured above). Bodie has 13 points and 2 majors towards his Grand Championship. He earned his second leg towards his Beginner Novice title, January 7, 2017, and finished the BN April 7, 2017.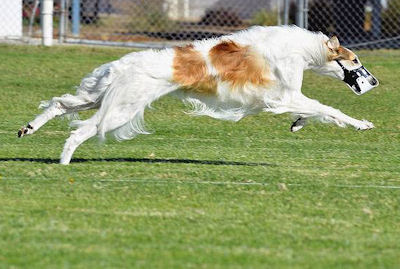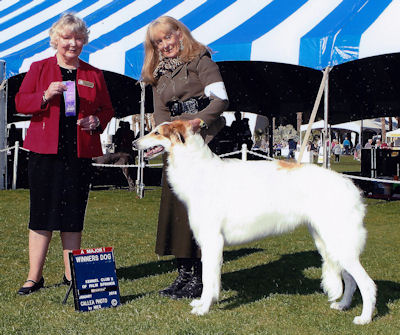 January 4, he goes Winner Dog over 9 males for a major, from the 9 - 12 month class, at the Kennel Club of Palm Springs CA show, judge Marianne Klinkoski (pictured above).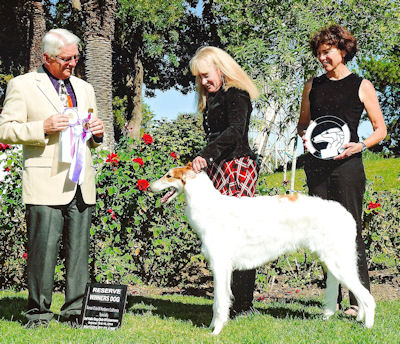 6 month old Bodie with judge James Sillers winning Reserve Winners Dog at the BCNC Specialty, October 2014.
Some of his littermates are GCHS Morozova Rey Sierra Moonlight, JC, SC, CGCA, RN, BN and Morozova Rey's Sierra Ruby, CA. His half-brother/cousin is CH Morozova Rey's Sky Pilot
---
Home This page was last updated April 18, 2017 © 2017 Lorrie Scott. All Rights Reserved. Webmaster Email