Bodie
CH Morozova Rey Desertwinds Sierra Sirocco, SC, RN, BN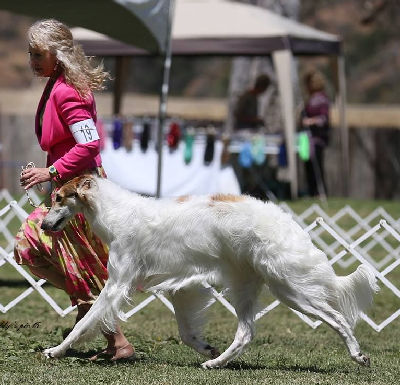 sire: RBIS MBISS GCHS Aruzia Priority One JC CGC ROMX-C
dam: BISS GCHS Morozova Sierra Sunrise At Rey JC ROM-C
white and red sable spotted male March 25, 2014 HP47164102 pedigree
BZ-CA1394/24M/C-VPI-ECHO BZ-EYE343/24M-PI
Breeders: Kay Novonty & Janet Adams Owners: Wendy & Tom Merendini
Bodie's journey to his Championship: Bodie was Reserve Winners dog from the 6-9 month class at the October 18, 2014 Borzoi Club of Northern California specialty. He is pictured with breeder-judge James Sillers and owner handler Wendy.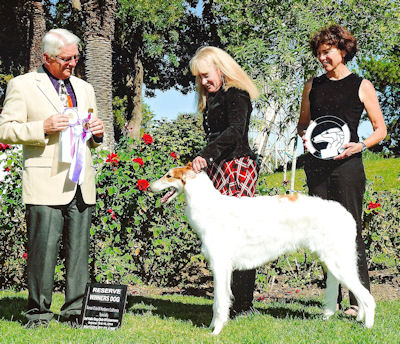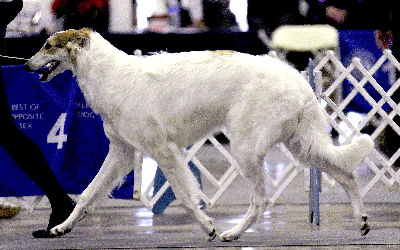 October 19, 2014, Bodie won Reserve Winners Dog, from the 6-9 month class at the Del Valle Dog Club of Livermore, breeder-judge Richard Meen. December 5 and 6, 2014, at the Shoreline Dog Fanciers Association of Orange County shows, Bodie won Winners Dog both days, from the 6-9 month puppy class, for 1 point and 3 points, judges James Edwards and Jacqueline Stacy. January 4, 2015, Bodie won Winners Dog over 9 males for a 4 point major, from the 9 - 12 month class, at the Kennel Club of Palm Springs CA show, judge Marianne Klinkoski.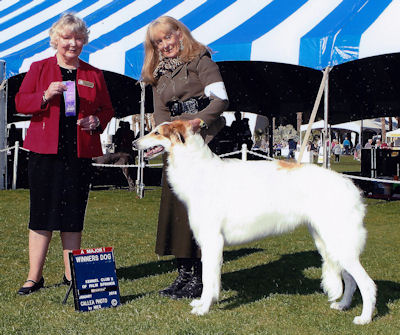 Januar 24 and 25, 2015, Bodie won Winners Dog from the 9-12 month class both days at the Orange Empire club shows, for two 3 point majors, judges Beverly Capstick and Patricia Nemirovsky de Alsina. His final point was won January 27, 2015 from the 9-12 month class at the Superstituion kennel club Arizona show, judge Dennis Gallant. Bodie earned his championship at 11 month of age from the puppy classes with 4 majors, owner handled by Wendy.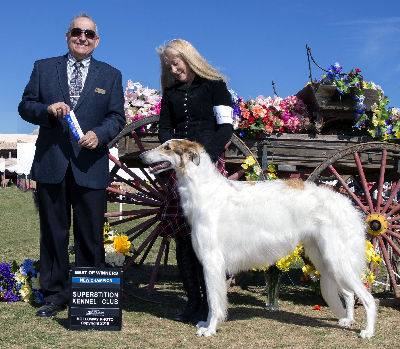 Bodie's career as a Special: March 1, 2015, Bodie won Select Dog for 1 point at the Scottsdale Arizona show, judge Michael Faulkner. April 12, 2015, Bodie won Select Dog for 4 points at the Western Hound Association of Southern California show, judge Stacey Davis. July 3, 2015, Bodie won Select Dog for 3 points at the Channel City kennel club show, judge Judy Newton. August 8 and 9, 2015 Bodie won Select Dog both days, for a total of 2 points. January 30, 2016, Bodie won Select Dog for 1 point, at the Orange Empire show, judge Carol Spritzer. Bodie retired with 13 points, 2 majors towards his Grand Championship.
Bodie's performance career: November 27 and 28, 2015, Bodie earned his Junior Courser title. He ran at 9 AKC coursing trials between November 28, 2015 and December 17, 2016, earning 5 points and completing his Senior Courser title.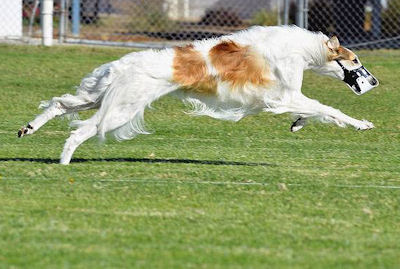 March 19 and 20, 2016 Bodie earned two qualifying scores for Rally Novice at the Del Sur club's trials. Bodie finished his Rally Novice (RN) title at the 2016 BCOA Specialty at Kansas City. Pictured with judger Rick Garvin and BCOA secretary Joy Windle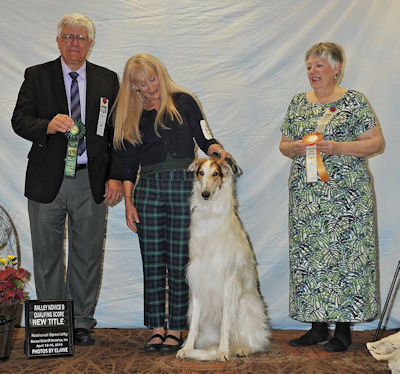 August 19, 2016, Bodie earned his first leg for his Beginner Novice (BN) title at the Reno Nevada trial. He earned his second leg towards his Beginner Novice title, January 6, 2017 at the Kennel Club of Palm Springs trial. He finished his BN title April 7, 2017, with a score of 197, at the Apple Valley club trial.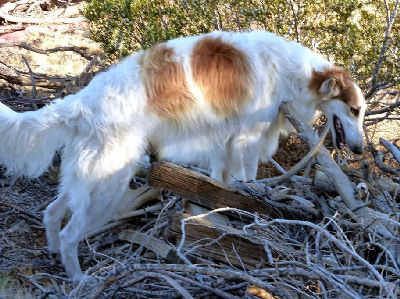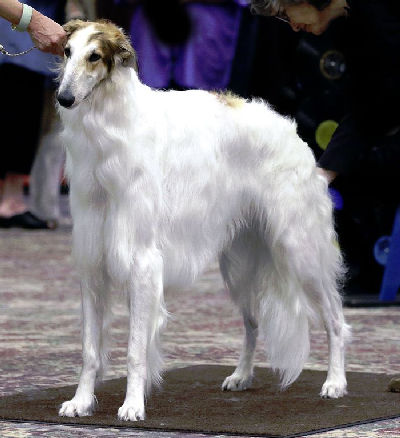 From a litter of 6, two of his littermates are GCHB Morozova Rey Sierra Moonlight, JC, SC, CGCA, RN, BN and Morozova Rey's Sierra Ruby, CA. His half-brother is CH Morozova Rey's Sky Pilot
---
Home This page was last updated January 3, 2021 © 2021 Lorrie Scott. All Rights Reserved.