Angel
CH Aruzia Flying Solo CGC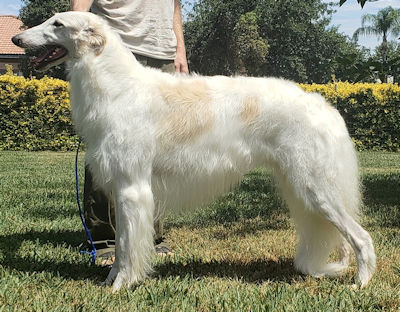 sire: GCHB Konza-Plum Creek Alfa Romeo At Aruzia, CGC, CA
dam: CH Aruzia Joyous Royal Watch Her
white and cream spotted female &nbspJune 3, 2016 HP51994401 pedigree
Breeders/owners: Lorrie & John Scott
"Angel" is a singleton puppy. She is a playful ambassador to all dogs she meets - human and canine alike. 3 year old Angel is pictured above at home.
Angel started her career with a 3 point major, by winning Winner Bitch over 8 bitches from the BBE class at the Orange Empire show, judge Pamela Peat, January 28, 2018, handled by Lorrie.
The two year old Angel is pictured at home July, 2018 with her dam Opal.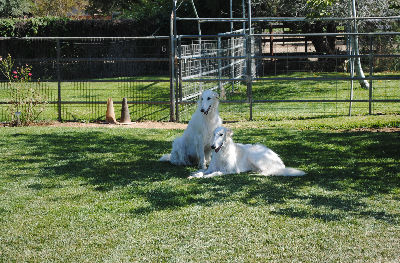 After a year off to mature, Angel was shown August 11, 2019, at the South Bay CA shows, where Angel won a point. Pictured with judge Bonnie Clarke and handler Julie Jones.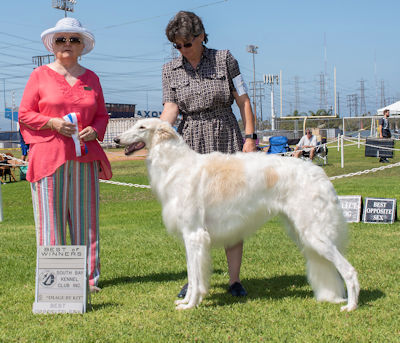 August 29 & 30, 2019, Angel woo Best of Breed both days, over 2 specials, earning 2 points under judge Sharon Sakson and 2 points under judge Hal Biermann. October 19, 2019, Angel won her second major at the Borzoi Club of Northern California specialty (held with the Del Valley Dog Club show). She won WB and BW for 4 points from the Bred-By class, under judge Robert Place, breeder-owner-handled by Lorrie. December 7 & 8, 2019, Angel won WB both days at the Shoreline Dog Fanciers Association of Orange County show, judges Linda Riedel and Terry Stacy, breeder-owner-handled by Lorrie. The two points finished Angel's championship.
Angel is pictured as a yearling. Photo by Patti Neale.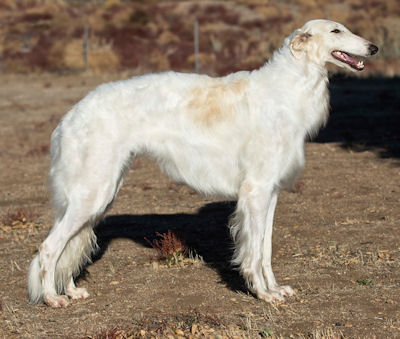 ---
Home This page was last updated December 3, 2020 © 2020 Lorrie Scott. All Rights Reserved.