Lucy
GCH Aruzia Ridgeside Marquee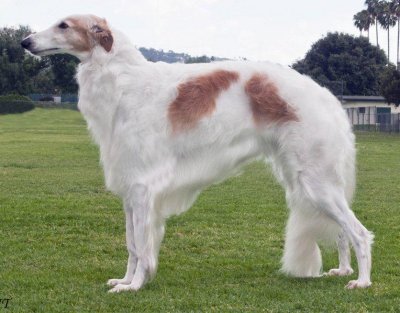 sire: Int/Mx/Am CH Seabury Moonlit Corvette
dam: CH Summerstar Champagne Dancer
white and gold spotted female September 2, 2007 - Februry 28, 2016 HP28583203 pedigree
CERF-90 Thyroid-normal-81 DM tested clear
Breeders/owners: Lorrie Scott, John Scott, Dr Fred Edlin & Ron Williams
Lucy is pictured above at 3 1/2 years old.
Lucy was our first homebred champion bitch. She was a sweepstakes winner, won multiple Best of Breeds from the classes and finished with 4 majors. At Borzoi Club Northern California specialty March 2011, judge Betty Stenmark, Lucy won Best Opposite Sex. Lucy is pictured with handler Kelly Hacker.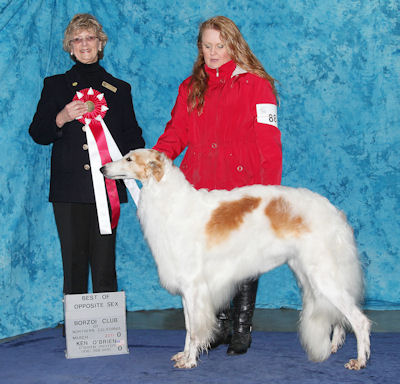 She was our house clown and the best surrogate mom. She loved puppies and though of them as her own. Unfortunately due to life circumstances, she was never bred. Lucy passed away suddenly from hemangiosarcoma.
Lucy is from a litter of 3 pups - brothers Aruzia Ridgeside Encore and Aruzia Ridgeside In The Spotlight.
July 26, 2009, Lucy wins a 4th major July 26, 2009, defeating 21 bitches, at the Lompoc valley show to finish. All wins were owner handled by Lorrie.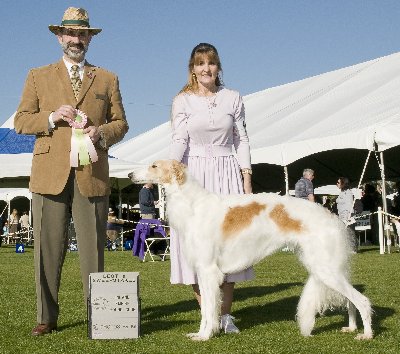 July 24, 2009, BCOC Specialty, Lucy won RWB (27 bitches shown). At the Orange Empire shows, Lucy won 2 points January 24, 2009 and a 3 point major and Best of Breed over specials, January 25, 2009. February 22, at the San Diego show, Lucy won another 4 point major and Best of Breed over 3 specials.
Lucy won Best In Sweepstakes and WB/BW/BOS over specials, from the Bred-By Exhibitor class, for a 4 point major at the January 2, 2009 Inland Empire Hound Association show. Lucy enjoyed showing and she also enjoyed going to shows for the "Meet The Breeds" and meeting the public. Pictured here with her full brother Frosty.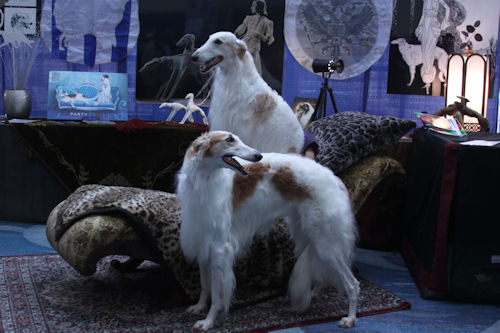 March 20 2011, Lucy won BOS at Del Sur Kennel Club Show, judge Stephen Hubbell. March 26 2011, Lucy won BOS at the Northern California Borzoi Specialty show. Judge was Betty Stenmark. April 17, 2011 at the Western Hound Association of Southern California show, Lucy won Select Bitch, under a judge from Ireland, Anthony Lord Edwards. June 4, 2011, Lucy finished her Grand Championship, winning Select Bitch, under judge Jon Steele at the Kennel Club of Pasadena show.
Baby Lucy is pictured below with Lorrie.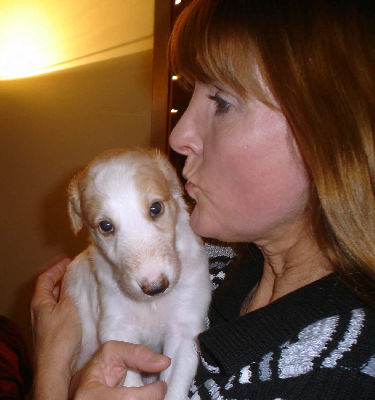 ---
Home This page was last updated November 29, 2020 © 2020 Lorrie Scott. All Rights Reserved.